** Orders over $64.00 - Postage and delivery is

FREE

!! Within Australia. ($7.95 Postage for orders under $64.00).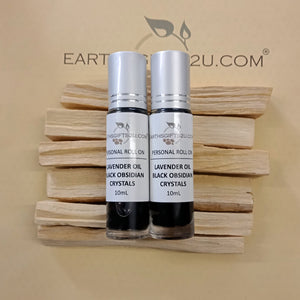 Lavender Essential Oil with Black Obsidian Roll-On
$2195

$21.95

Save $4.05
Tax included.
Shipping
calculated at checkout.
---
---
           

Earthsgifts2u Lavender Essential Oil:  
Botanical Name: Lavandula Angustifolia Miller 
You'll almost certainly need no introduction to the wonderfully sweet, floral and herbaceous aroma of Earthsgifts2u pure Lavender Essential Oil. Perhaps the most well-known of the essential oils and for good reason, Lavender Oil is renowned for its vast therapeutic properties, and is a prized ingredient in everything from cosmetic and skincare products to aromatherapy applications.
Lavender Oil is well valued for its relaxing, calming, soothing and sedative properties, and its ability to help relieve stress, anxiety, irritability, and nervous tension. It's also thought to reduce pain, enhance blood circulation and treat respiratory problems. Plus it's identified as safe to use on children, adults and the elderly.
In skincare, Lavender Oil has a reputation for its antiseptic, cleansing and detoxifying properties, along with being an excellent agent for dry, sensitive and irritated skin. It's said that Lavender Oil is one of the most beneficial oils in the treatment of acne, as well as other skin complaints such as eczema, psoriasis, scarring, and wrinkles. Also, did you know it's been shown to be effective for treating hair loss?
 Black Obsidian Chips:   A powerful crystal for protection, helping to clear the buildup of psychic smog within your aura by acting as a psychic vacuum cleaner. It protects and cleanses your aura of disharmony, negative attachments, old patterns, and negative emotions, helping to unearth any negative thought patterns that are standing in the way of your personal and spiritual growth. In addition to protection and releasing negativity.
Bottle Sizes:  (10 ml) with Stainless steel Roller.
Packaging: Glass (Clear) Bottles.
Sold: 1 x bottle per listed price.
These items are bottled in Australia, carefully processed by professionals. Stock Maintained and stored below 16 Deg C.  Actual items may look slightly different from the image due to image quality and lighting.

Delivery: Normally dispatched within 24 hours.
---
We Also Recommend