** Orders over $64.00 - Postage and delivery is

FREE

!! Within Australia. ($7.95 Postage for orders under $64.00).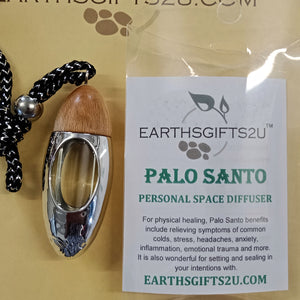 Palo Santo Space Diffuser
$2395

$23.95
Tax included.
Shipping
calculated at checkout.
---
---
                    

Stylish and easy to use. Gives you the versatility of aromatherapy in your car, using Palo Santo pure essential oils and based on the effects you want.
Botanic Name: (Bursera Graveolens)
For example,
Palo Santo is an uplifting oil for the mornings when driving to work or driving your kids to school.
Palo Santo is a focus and concentration oil when driving long-distance.
Palo Santo is a de-stressing or revitalizing Essential oil in the evenings, a 'germ-busting'  Essential oil if you're ferrying sick people in your car.
Palo Santo is a refreshing Essential oil to clear stale smells. 
Forget artificial & harmful synthetic fragrances that only add more chemical toxins into your car. There's enough of that when the sun's heat releases chemical toxins from the plastics, vinyl, and carpets within your car. 
Diffuser Sizes: (10 ml).
Packaging: Glass Bottles. With Wood sealed top. 
Sold: 1 x bottle and casing per listed price.
These products are made in Australia, carefully processed by professionals. Stock Maintained and stored below 16 Deg C. Actual items may look slightly different from the image due to image quality and lighting.
Delivery: Normally dispatched within 24 hours.
---
We Also Recommend